Via Scoop.it – Exhibition Stand Design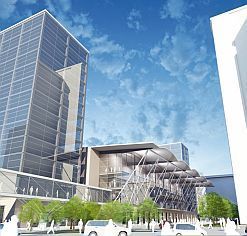 The Cape Town International Convention Centre (CTICC) will undergo a massive expansion drive, the Western Cape provincial government has announced.
A multimillion-rand investment in refurbishments at the centre was revealed in the city on 30 March 2011. The exact amount secured for the expansion project is R605-million, according to CTICC spokesperson Zeenat Parker.
The development will form part of the R4.5-billion Cape Town CBD regeneration project.
The expansion of the convention centre will include 10 000m³ of new retail space, an office tower and a host of new basement parking bays.
Another major focus of the expansion will be creating a stretching precinct that connects the CTICC to the Artscape. Founder's Garden precinct is to be regenerated to achieve this massive precinct.
Read the original post:
———————————————————————————————————————————————–
Hott 3D designs, manufactures and builds trade show
exhibition stands
and temporary event infrastructure. The company provides complete expo solutions all over South Africa including – Cape Town, Durban, Johannesburg.
———————————————————————————————————————————————–You might  like these posts related to the South African Exhibition Industry: